New migraine data builds on prior clinical studies in depression
HOUSTON, Aug. 07, 2023 (GLOBE NEWSWIRE) — Nexalin Technology, Inc. (the "Company" or "Nexalin") (Nasdaq: NXL; NXLIW) today provided an update on the growing body of clinical data supporting the potential therapeutic benefits of its second-generation (Gen-2), 15 milliamp (mA) neurostimulation device, including the results of a study in patients with migraine headaches, which indicated a substantial and statistically significant benefit in patients.
The clinical trial was funded by the Company's joint venture partner, Wider Come Limited ("Wider"), and its related companies, and was conducted at the Vertigo Center, Department of Neurology, Second Affiliated Hospital of Zhengzhou University. The results were also presented in Chin J Neuromed, a peer-reviewed scientific journal in China, which concluded that repeated treatment with Nexalin's neurostimulation device suggests a significant reduction in the frequency and degree of pain of migraine patients. In addition, a strong safety profile was reported.
As part of the clinical study, 40 migraine patients (without migraine aura) were treated at the Vertigo Center. Patients were randomly assigned 1:1 to experimental and sham groups. Treatment was administered for four consecutive weeks with a 4 week follow-up period. Efficacy and adverse reactions were assessed before treatment, at the end of treatment, and at the end of follow-up, respectively.
A statistically significant improvement was achieved across all key metrics, including Visual Analog Scale (VAS), Pittsburgh Sleep Quality Index (PSQI), Hamilton Anxiety Rating Scale (HAMA), Hamilton Depression Rating Scale (HAMD) and Migraine-Specific Quality of Life Questionnaire (MSQ) scores (see charts below). All of these measures are used as standard scales in clinical practice to assess the severity and impact of migraine and related symptoms, as well as the effectiveness of treatment. Additionally, no adverse events were observed during treatment in the two groups.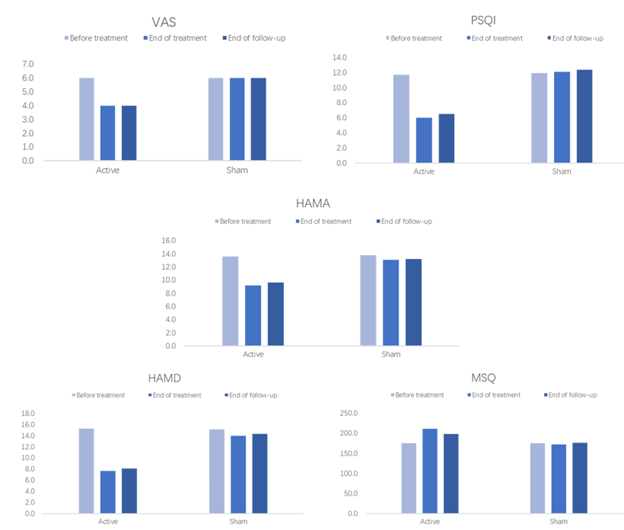 Migraine trial results
The migraine study follows the Company's recent clinical study in depression, which demonstrated statistically significant improvements among patients. Numerous studies have indicated an association between migraines and major depressive disorder (MDD), and depression is estimated to affect nearly 80% of all migraine sufferers.
The previous 8-week randomized, double-blind, sham-controlled trial evaluating 100 patients with MDD, published in the international journal, Brain, indicated that patients receiving treatment with the Company's Gen-2, 15mA neurostimulation device had better remission and response rates than the sham group. Compared with sham treatment, almost all depressive symptoms among the active treatment showed significant improvement. Moreover, there was no significant statistical difference in adverse events between the two groups.

Depression trial results
According to the World Health Organization (WHO), the prevalence of mental health disorders and conditions is increasing worldwide and there has been a 13% increase in mental health conditions and other depressive disorders in the last decade alone. Notably, in 2020, among adolescents between ages 12 and 17, 17% percent had a major depressive episode (MDE), and 12% had MDE with severe impairment in 2020, according to the USA Department of Health and Human Services (HHS).
Mark White, CEO of Nexalin Technology, stated, "Research and Markets estimates the migraine and depression markets at roughly $3.9 billion and $11.2 billion, respectively. We believe the data we have reported in our clinical studies provide evidence of potential clinical efficacy, without any significant adverse effects, which is especially noteworthy given the growing number of patients seeking non-pharmacological treatment options, since pharmaceuticals often come with very negative side effects. We look forward to conducting additional clinical trials in new indications – many of which will be fully funded by Wider, our new JV partner."
About Nexalin Technology, Inc.
Nexalin designs and develops innovative neurostimulation products to uniquely and effectively help combat the ongoing global mental health epidemic. All of Nexalin's products are non-invasive and undetectable to the human body and developed to provide relief to those afflicted with mental health issues. Nexalin utilizes bioelectronic medical technology to treat mental health issues. Nexalin believes its neurostimulation medical devices can penetrate structures deep in the mid-brain that are associated with mental health disorders. Nexalin believes the deeper penetrating waveform in its next-generation devices will generate enhanced patient response without any adverse side effects. The Nexalin Gen-2 15 milliamp (mA) neurostimulation device was recently approved in China by the National Medical Products Administration (NMPA) for the treatment of insomnia and depression. Additional information about the Company is available at: https://nexalin.com/.
FORWARD-LOOKING STATEMENTS
This press release contains statements that constitute "forward-looking statements," These statements relate to future events or Nexalin's future financial performance. Any statements that refer to expectations, projections or other characterizations of future events or circumstances or that are not statements of historical fact (including without limitation statements to the effect that Nexalin or its management "believes", "expects", "anticipates", "plans", "intends" and similar expressions) should be considered forward looking statements that involve risks and uncertainties which could cause actual events or Nexalin's actual results to differ materially from those indicated by the forward-looking statements. Forward-looking statements are subject to numerous conditions, many of which are beyond the control of the Company, including those set forth in the Risk Factors section of the Company's Report on Form 10-K for the year ended December 31, 2022 and other filings as filed with the Securities and Exchange Commission. Copies of such filings are available on the SEC's website, www.sec.gov. Such forward-looking statements are made as of the date hereof and may become outdated over time. Such forward-looking statements are made as of the date hereof and may become outdated over time. The Company undertakes no obligation to update these statements for revisions or changes after the date of this release, except as required by law.
Contact:
Crescendo Communications, LLC
Tel: (212) 671-1020
Email: NXL@crescendo-ir.com
Attachments